Director: Dr Casimir Kingston Chukwunonyelum Ani.
Brief profile of the Director: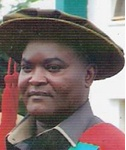 Dr. Casimir Kingston Chukwunonyelum Ani
Senior Lecturer, Department of Philosophy/Senior Research Fellows at both the Institute of African Studies and Institute of Development Studies, University of Nigeria, Nigeria
Email:  casimir.ani@unn.edu.ng;            stracep.vc@unn.edu.ng
Areas of acquired competency, expertise/Consultancy spanning over 15 years
1.Ethics and Leadership Skills Expert Trainer/Facilitator/Innovative Incubator
Globethics Ethicist/Country Representative for Nigeria/West Africa
3.Member of the Consortium of Ethical Universities, Geneva, Switzerland;
4.Member of the Board of Directors, UNN Business School, University of Nigeria
Communication skills for Democratic Governance for development–Produced the DGD Communication strategic document for managing the 2011 presidential elections for UNDP, EU,Cida,DFID and the KOIDA;
6 Peacebuilding and conflict resolution skills-Produced the working document for peacebuilding,conflict resolution and rehabilitation of three states of Adamawa,Yobe and Jigawa under Boko Haram insurgency for ECOWAS/Plus Consulting International.Main facilitator-ongoing
7.Consultant/ facilitator for Three United Nations agencies-United Nations Educational Scientific Organization (UNESCO) and World Intellectual Property Organization (WIPO), United Nations Development Program (UNDP) for over ten years-Facilitator for the UNESCO Cluster Office Gabon;UNESCO Kenya;UNESCO Uganda;UNESCO Zambia.WIPO Geneva Office,Switzerland;UNDP-Consultant for the UNDP DGD Project in Nigeria
Demonstrated high level of Computer skills in word processing,presentation,publishing spreadsheet and database applications (MS Office), e-mail and website management etc.
Demonstrated over 10 years working experience in managing/budget skills in project/ program planning, administration, evaluation, proposal writing and fundraising, accounts, staff supervision and training.
6 African youths mentoring,coaching and ethical mentoring in leadership,volunteering for non-profits and community development
Community participatory mobilization and organization skills for achievement of development goals
7 Diplomatic, consultative and persuasive skills in managing inter-community conflicts
8.Time and deadline management skills, particularly to work under pressure to meet deadlines
Strong team management skills in reaching decisions
Ability to manage streams of diversity in gender,social backgrounds,sectarian,political and personalities etc
10.The Chairman,Nigerian Civil Society Platform on Tangible and Intangible Cultural Heritage(NICISOP)
Member, Expert/Consultant Mechanism Panel, Culture and Sustainable Development, UNESCO
12.Expert on African Cultural Economics, UNESCO and Author, African cultural economics in the Millenium(CIDJAP Press,Enugu Nigeria)
Educational Qualifications
2000 Ph.D., Philosophy/Cultural Communication, University of Nigeria, Nigeria
1987 M.S., Philosophy, University of Nigeria, Nigeria
1985 B.S., Philosophy/International Development, University of Nigeria, Nigeria
2003 PGD Human value education,Sathya Sai University,Andre Pradesh India,an extension of the International Education Committee(I.E.C), of the Sathya Education in Human Values Project  that collaborated on the Human value/water management program with the United Nations in Africa.
Areas of specialization/educational research/field work: BA (First degree); MA and Phd Degrees in Political Philosophy/Development: communication, Human rights, Gender rights, Indigenous people's rights, Intellectual property, Management of Elections in Africa and conflict studies. Pgd in Human Value Education (EHV), Ethical Leadership/Management,and certifications in Ethics in Higher Education(EHE).
MEMBER OF EDITORIAL BOARDS AND PUBLISHING COMPANIES/Non-Governmental Organizations/Governments/International Development Organizations/United Nations etc
Editorial Board Member,Open Journal of Political Science(OJPS),SCIRP,U.S.A
Editorial Board Member, Open Journal of Philosophy, (OJPP)SCIRP, USA
Editor-in-Chief,Nigerian Intellectual Property Journal(NIPO)
Director, Special Projects and News Documentary, Enugu state Broadcasting Service (2000)
Deputy Director,African Institute for Sathya Sai Education,(TAISSE)Ndola Zambia  and Director,TAISSE,Nigeria
Director, Millenium Good Governance Project,University of Nigeria(MIGGOP)
Executive Secretary, Centre for Peace builing & Poverty Reduction Among African Indigenous People(Accredited  and works for  the United Agencies such as World Intellectual Properties Organization(WIPO),Geneva); UNESCO, Paris, France;United Nations Indigenous Peoples Forum, Geneva; Democratric Governance for Development Project(DGD),Nigeria()UNDP and the European Union, DFID,Cidas and other International Agencies. Under this Arrangement, produced the Communication Strategic Document for the 2011 presidential Elections for peacebuilding and national stability;
Director, Catholic Institute for Development,Justice& Peace(CIDJAP& CARITAS),Nigeria(Director for Research, Peacebuilding and Poverty Reduction)
Country Director,HMK Germany,Nigeria,responsible for Inter religious Harmony, peace-building& Rehabilitation of Internally displaced Christians and Moslems in Northern Nigeria(1998-2000)
Currently, the Chairman of the NGOS Forum thematic group on UNESCO Committee on Gender/Intellectual Property on Intangible Cultural Heritage (2013-till date)
Chairman of the Millenium Good Governance Project (MIGGOP), Office of the Vice Chancellor, University of Nigeria (2009-2013)
Hobbies: Reading, meeting new people. Writing, travels (Has travelled to over 15 countries in Development work)